Author:
Imazi
on 04/11/15, 07:59:56 PM
Comments:
0
Location:
Coruscant
In-Game Name:
Imazi's Republic Sanctuary
Stronghold Type:
Personal
Privacy:
Publicly Listed
Primary Key Holders:
Imazi
The KHD Outpost is a Coruscant Stability Taskforce(CST) center located in the lower Kindron Historical District of the Senate Sector which provides medical services, emergency command hub, area surveillance, and community outreach. The purpose of the center is to provide extra manpower, resources, and local area observation in key areas of Coruscant to promote planetary security and stability by placing qualified personnel near hotspots or potentially strategic areas.
Kindron Historical District Outpost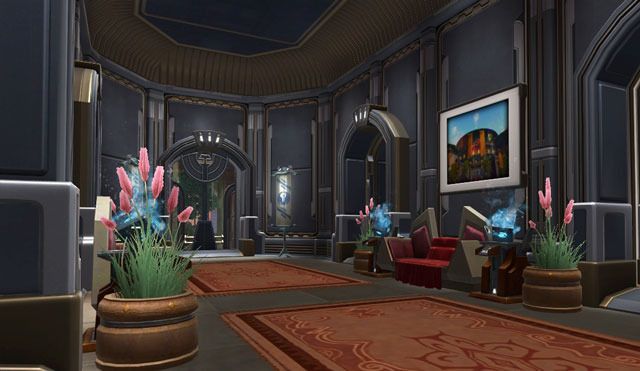 [The Images have been photoshopped to look more like the IC concept of this outpost.]
_______________________
Kindron Historical District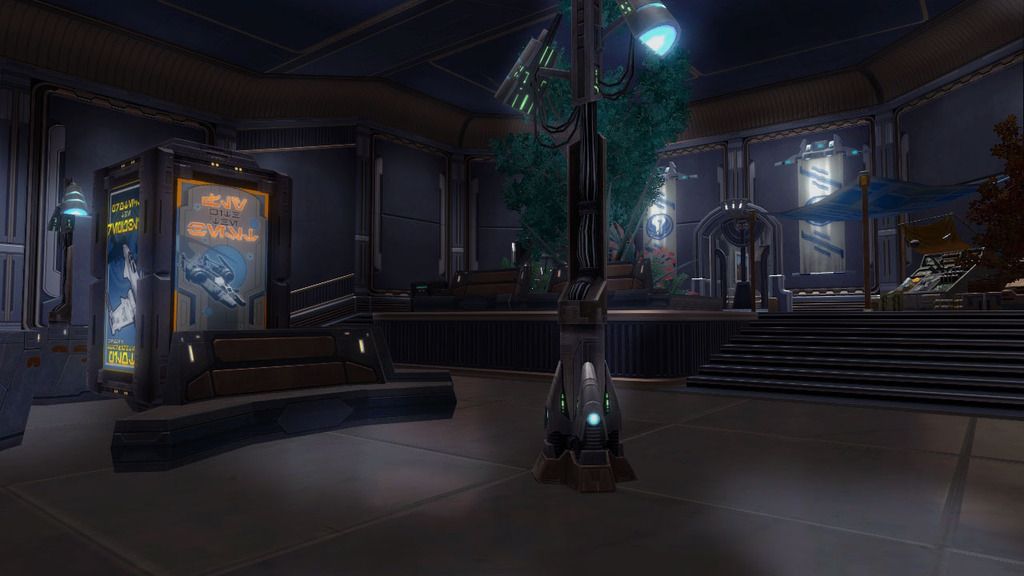 The Kindron Historical District is a minor historical neighborhood named after attan Kindron who successfully introduced conscientious urban renewal policies which not only brought about a turnaround in the neighborhood itself but also improved the lot of the original residents rather than simply relocate them. Memorials to her still stand on certain streets.
For a while, the neighborhood enjoyed a place of significance in Coruscant daily affairs until the ever growing city sprawl eventually introduced newer areas which were more convenient and had more significant contributions to Coruscant History. In the wake of the shift, little more than museums were left in the area and the advent of newer museums in the upper portions of the Senate Sector left many of the old museums abandoned.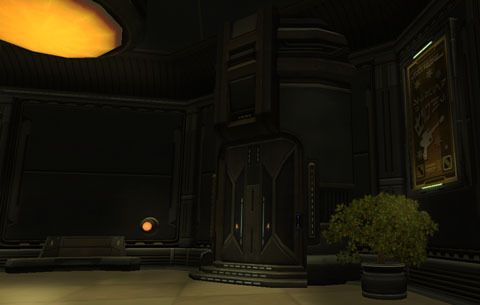 The outpost is freely accessible to those in need of it and the outpost neighborhood can be accessed by elevator or speeder. However, caution is advised. although the area directly around the outpost is secured by security droids, the neighborhood can at times present danger late at night for those from outside of the area.
Medical Bay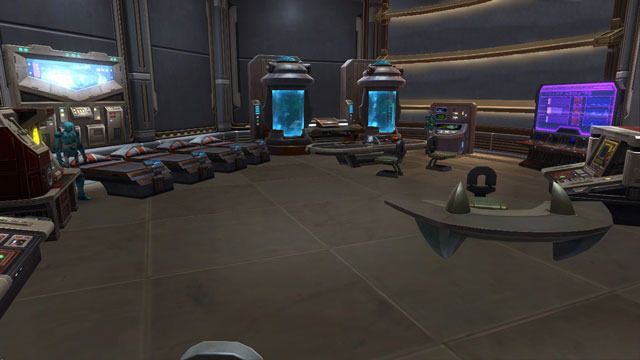 The outpost medical bay is fully equipped to handle a wide variety of medical situations in limited number. It contains 4 medical beds, 2 kolto tanks, a research bioanalysis scanner, an extensive medical databank, and two medical droids. X1-SD is an advanced Surgery droid capable of operating on most known species in the galaxy and DN-23, "Doc", is a triage and administration droid equip to manage the entire medical process in the absence of medical staff.
Strategy and Emergency Command Hub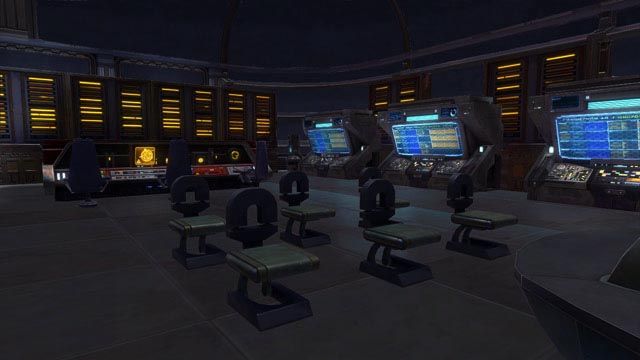 The strategy room is a local command hub that can also double as a larger command hub I the event of an attack on the upper levels of the Senate Sector. It was installed as a nearby backup measure for continuing to run various operations in the heat of battle. In contains several computers, work stations, and briefing area.
Reception Room
The reception room functions as a meeting place for visiting officials and even locals who need to speak with outpost personnel. It can also be used for important local meetings.
Personnel areas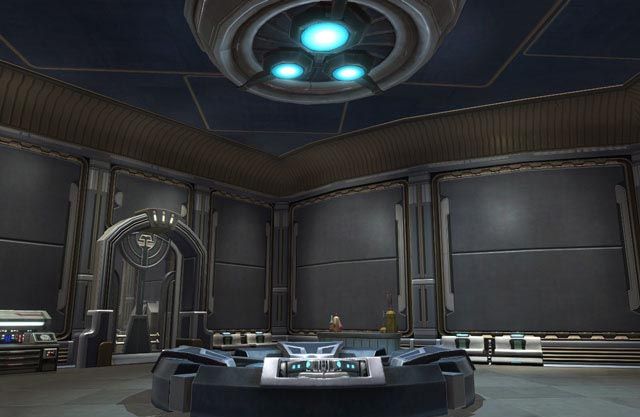 The Outpost has room for 3 resident personnel and a large common area complete with eating areas and a large holo-terminal capable of long range holo-calls.
Other areas of Note:
Mixie's Cafe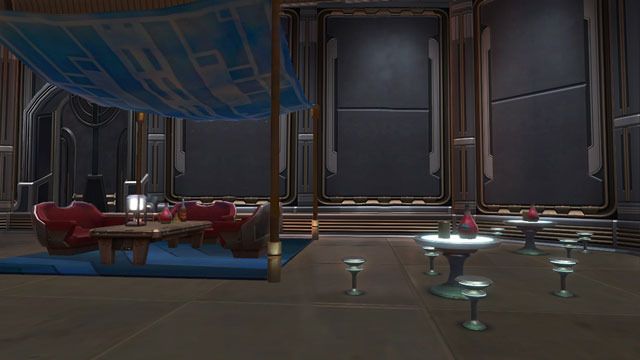 Mixie's cafe is a great place to pick up a cup of caf and a quick bite to eat. as a small place, seating is at a premium and the popularity with locals means that people will often have to sit outside the cafe just to find a seat.
Kindron Market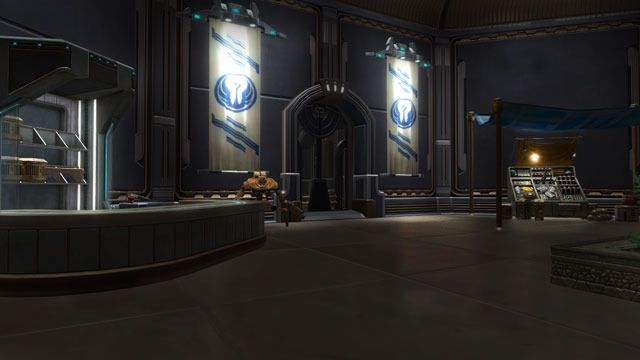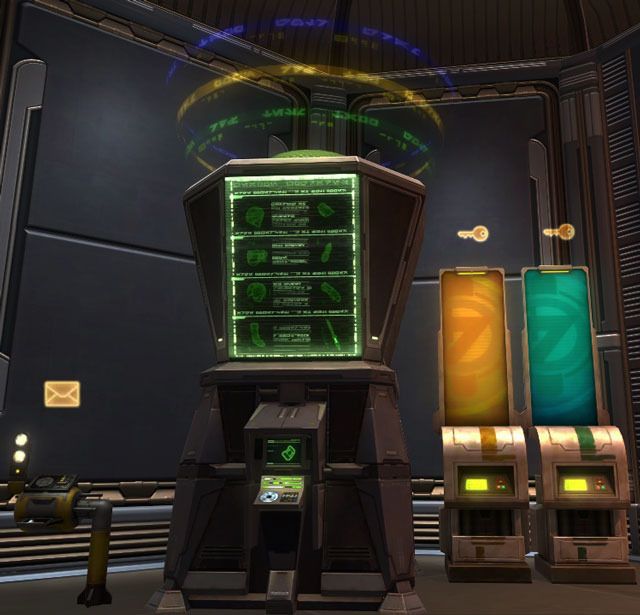 The Kindron Market is an open air market that lets people browse at a leisurely pace. It provides both the usual daily goods as well as places for people to set up and sell whatever odds and ends they come across. Some of the residents are avid players on the Galactic Trade Network and moved to get kiosk set up in the market allowing residents to keep up-to-date on the ebb and flow of the Market.
Wanlau avenue
Wanlau avenue is a main thoroughfare of the district and many formerly important buildings and museums are located on it. It is the main entry point to the district by speeder and there is a speeder stop connecting to other parts of Coruscant at the end of it.